Winning Everything Everywhere all at Once: Five Experts on the Big Moments at the Oscars 2023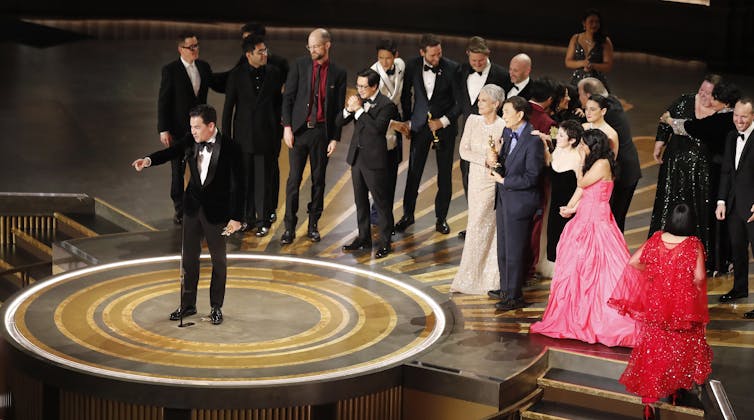 By Ari Mattes, University of Notre Dame Australia; Deborah Fisher, University of the Sunshine Coast; Gregory Camp, University of Auckland; Jindan Ni, RMIT University, and Robert Boucaut, University of Adelaide
The Academy Awards in 2023 were a less scandalous affair than last year – although host Jimmy Kimmel never let us forget "the slap", with so many jokes it was verging on a dead-horse-beating situation.
In fact it was a relatively wholesome ceremony, defined by great sweeps for films All Quiet On The Western Front and Everything Everywhere All At Once. Perhaps the only "shock" was Angela Bassett losing Best Supporting Actress to Jamie Lee Curtis, and thereby being denied the chance to "do the thing".
Here, we summarise the most important moments from the 2023 Oscars.
All the looks of the champagne carpet
Deborah Fisher, Lecturer in Design and Fashion Studies, School of Business and Creative Industries, University of the Sunshine Coast
The Oscars 2023 red-carpet fashions will spur a rush of activity as the haute couture and designer looks are rapidly reproduced for the knockoff market.
The pillars of European Haute Couture were well represented. The major players such as Louis Vuitton (Cate Blanchett, Ana de Armas), Armani Privé (Nicole Kidman), Dior Haute Couture (Michelle Yeoh), Valentino (Florence Pugh), Prada (Catherine Martin), Atelier Versace (Lady Gaga), floated across the carpet with all the feel of Paris fashion week.
There was, however, an obvious absence of emerging or avant-garde designers or even American designers. Instead, it would be fair to say there was an abundance of understated looks, with shades of soft ecru and off-white dominating (Halle Berry, Michelle Williams, Emily Blunt, Tems). Where there was colour, it was delectable- mid-toned aqua (Halle Bailey in Dolce & Gabbana), citrusy orange (Sandra Oh in Giambattista Valli), chartreuse (Winnie Harlow in Atelier Versace), palpable purple (Angela Bassett in Moschino).
Red (note the carpet was renamed champagne) got a solid look in with Melissa McCarthy, Anni Strenisko, and Cara Delavinge, who stunned in Elie Saab. The men followed the mostly conservative mood, with Austin Butler and Lenny Kravitz in Saint Laurent, Keith Urban and Ke Huy Quan in Armani Privé, and Paul Mescal in Gucci. Questlove, last year's Best Documentary winner, adorned his Crocs with sparkles and bling so he could "shine his light," perhaps the most personalised of the men's sartorial stories.
And of course, there are some looks that will, although they should not, be copied – Sigourney Weaver's somewhat matronly Givenchy dress and Eva Longoria's art deco-inspired, but far too ambitious gown by Zuhair Murad.
Keeping the score
Gregory Camp, Senior Lecturer, University of Auckland School of Music
There was a sore lack of good music throughout this year's ceremony.
I miss the days of the orchestra pit. The orchestra this year was invisible, other than a few short shots of them leading into commercial breaks and during the Best Original Score announcement. They appeared to be in a conference room somewhere backstage; just because one can pipe in a remote orchestra fairly easily doesn't mean one should. And despite the fact there was a live orchestra (somewhere), most of the music sounded prerecorded, as it was mixed in a flat, lossy way.
The music clips chosen to accompany the presenters' and winners' walks to and from the stage were not very exciting. We heard a lot of a very dull looping motive from Everything Everywhere All at Once as members of its team went to collect their well-deserved awards.
It is possible to write music that is immediately noticeable and interesting; just ask John Williams, who can fit more melodic material into two bars than this whole ceremony had in all its incidental music. All Quiet on the Western Front's repeating minor triad is at least memorable, although I was surprised it beat Williams' and Justin Hurwitz's stronger work for The Fabelmans and Babylon, respectively, to win the Best Score award.
The Best Song nominees this year were uniformly poor, aside from Naatu Naatu, which did its job well and justifiably won the award. Applause from Tell It Like a Woman was really terrible, a surprisingly ineffective song from Oscar stronghold Diane Warren. This Is a Life from Everything Everywhere was also an awful song, but it added a much-needed touch of the bizarre to this slick ceremony.
---
---
Naatu Naatu was the only musical moment that brought back something of the Oscars' glamour of yore. This is one of the first songs from song-rich Indian cinema to break through to the Oscars, but we can hope that it will pave the way for more.
Lady Gaga had a rough start with her Top Gun song Hold My Hand, suffering through some poor vocal intonation, but she warmed into it. Considering this is a film awards show, the poor cinematography for this performance was striking: Gaga was in an overly tight shot and the camera operator had a hard time keeping this very active performer in the frame. That said, I liked the simplicity of the setting for the song, the strong backlighting isolating her and her band in the space and making the large stage seem more intimate.
Rihanna gave a good performance of another lacklustre number, Wakanda Forever's Lift Me Up. The downbeat, repetitive song didn't allow her to show very much of her range. This all makes one desperate for a return of the likes of Henry Mancini and Randy Newman to this category.
Brendan Fraser and Best Actor
Ari Mattes, Lecturer in Communications and Media, University of Notre Dame Australia
With his Oscar win for Best Actor for The Whale, Brendan Fraser simply proves something most of us have known all along – he's a great performer. If anyone had any doubts, they simply needed to watch performances across his career, from Encino Man to Gods and Monsters to his comical cameo as himself in Dickie Roberts: Former Child Star.
His performance in The Whale is fine, and good enough to win the Oscar, but again the win reflects popular sensibilities rather than being a measure of true artistic merit. It's essentially an easy part in an easily digestible film from a director, Darren Aronofsky, who's made a career of making genre films that seem more interesting and complex than they actually are.
He returns here, with Fraser, to similar terrain he covered with Mickey Rourke in The Wrestler – getting a performance out of a supposedly washed-up actor that, at least in part, reflects the courage of the actor in appearing warts and all – willingly vulnerable and hopeless.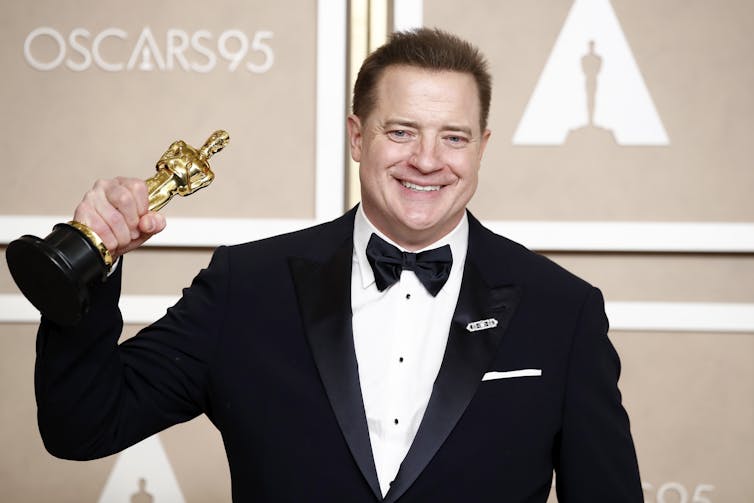 I reiterate, Fraser is good (as he was in Airheads, although he wasn't nominated for Best Actor for that performance), but so much of the pathos and energy of the film simply comes from his appearance – and our knowledge that Fraser used to be a Hollywood heartthrob.
And there's something fundamentally lazy about that.
Michelle Yeoh and Best Actress in a Leading Role
Jindan Ni, Lecturer, Global and Language Studies, RMIT University
Everything Everywhere All at Once became the biggest winner at the 95th Academy Awards – surprising, but also not so surprising. Cast mainly by Asian actors and actresses, this strangely (sometimes even disturbingly) funny but also moving comedy won most of the major awards, including Best Leading Actress and Best Director.
Michelle Yeoh, who is now the first Asian actor to win Best Actress, addressed her acceptance speech directly to "the little boys and girls" who look like herself, and proudly claimed that her winning is "the beacon of hope and possibility" for all the Asians who pursue their dreams in Hollywood, or even more broadly, in Western societies with a long history of deeming Asians as inferior.
The sweeping wins of Everything Everywhere All At Once at the Oscars is a manifestation of reconciliation and inclusiveness that the Academy Awards are attempting to embrace and strive for.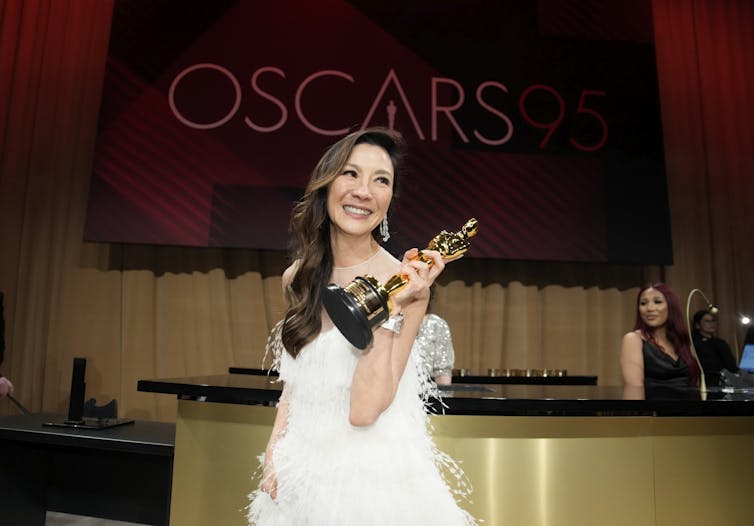 Despite its historical winnings at the Academy Awards, it is hard to say that Everything Everywhere All At Once has successfully managed to make new representations of Asian in the big screen. Yeoh still needed to make good use of her Kung fu skills in the movie to appeal to the audience and the market.
The final thing I would like to add is although Cate Blanchett did not win Best Actress, her formidable and awe-inspiring acting in Tár is by no means inferior.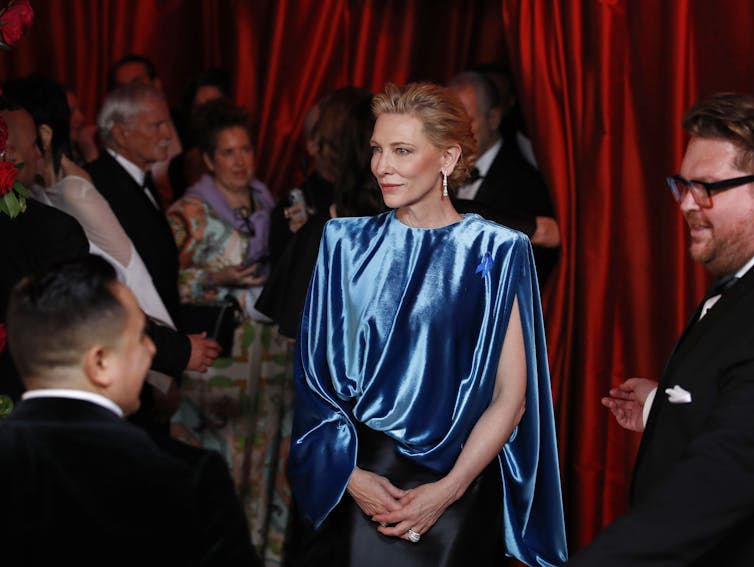 Just like the nickname "da mowang", literally meaning "the mighty devil", the Chinese audience has given to Cate, her powerful and almost enigmatic performance in Tár also tells of the infinite possibilities for women who refuse to be defined by age, which largely resonate with Yeoh's words: "Ladies, don't ever let anyone tell you you are past your prime."
Celebrity legacy at the Oscars
Robert Boucaut, PhD Candidate and Tutor, Media Department, University of Adelaide
The choice of winners for the acting categories at the 2023 Oscars speaks to a respect for building celebrity legacy – all are actors over 50 years of age and on their first-ever nominations.
Despite the backlash copped in the year of the nepo-baby, Jamie Lee Curtis used her speech to thank her dedicated fanbase who have championed her work in action and horror movies.
Fraser and Ke Huy Quan's outpourings of emotion for their wins signified their deeply felt triumphs over years of uncertainty in filmmaking: an Oscar's "comeback narrative" always highlights how an industrial status quo works against individuals who fall out of favour in a celebrity marketplace.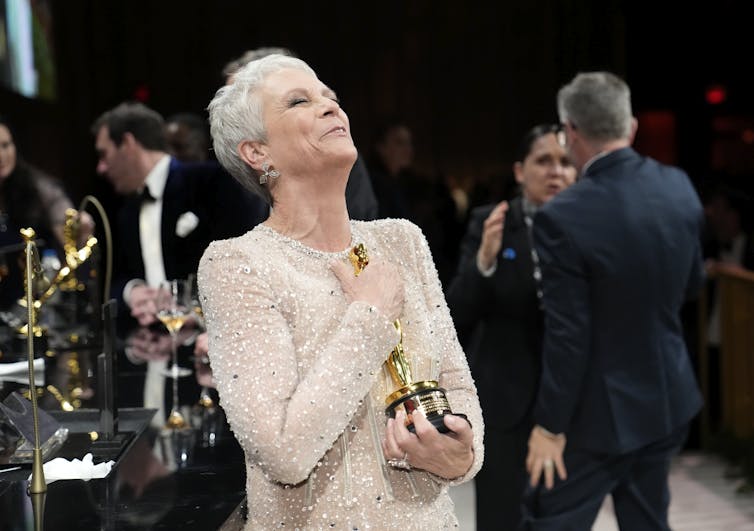 And the collectively held breath across film Twitter upon the announcement of Halle Berry presenting the Best Actress award was finally relaxed with Michelle Yeoh's win – the first woman of colour to win the award presented it to the second, 21 years later.
Across the awards season both Yeoh and Quan demonstrated an acute awareness of the significance their wins would hold as Asian actors, and their speeches invited the audience to dream big. The genuine emotion offered and elicited across all four categories were a refreshing rebuttal for an Oscars cynic, that the symbolic power of these awards can be put in service of expanding notions of prestige acting and celebrity.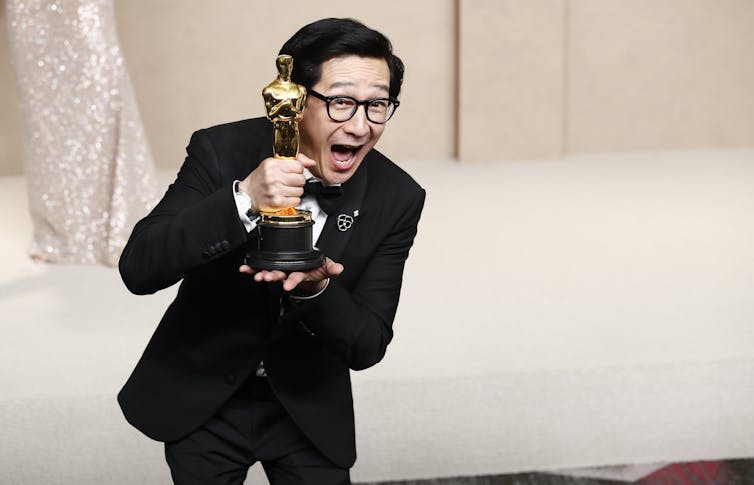 The best picture? Or was it
Ari Mattes
The production companies behind Everything Everywhere All at Once must be frothing at the mouth – not only have they cleaned up at the box office, making (by conservative estimates) five times their budget, but their film has now won the Best Picture Oscar.
Does it deserve it? In much of the commentary around the film, moral and aesthetic categories are being confused. It is good that it has won, because it's an independent production, and it's nice that a film with Chinese actors in it has won. But this is a moral argument.
Although undeniably a crowd-pleaser, I found the film aesthetically drab. It was overlong, a mess of ideas derived from other (and often better) works, and the whole thing was overlaid with a kind of irritatingly cutesy schtick.
It works okay as a 1980s-style blockbuster, but as a piece of cinema it is doubtful it will have any bearing or longevity in the cultural archive.
Was it actually the best picture of 2022? No – there were six better films nominated for the award, with The Banshees of Inisherin a true cinematic masterpiece – not to mention all the excellent films that had no showing in the Oscars.
What its win does suggest (along with the success of Top Gun: Maverick), is that audiences are craving nostalgic cinema that plays well on the big screen. And this will excite the kinds of mega-corporations that produce indie cinema these days – they can simply recycle and combine material from their VHS collection.

Ari Mattes, Lecturer in Communications and Media, University of Notre Dame Australia; Deborah Fisher, Design/Fashion Studies in School of Business & Creative Industries, University of the Sunshine Coast; Gregory Camp, Senior Lecturer, University of Auckland; Jindan Ni, Lecturer, Global and Language Studies, RMIT University, and Robert Boucaut, PhD Candidate & Tutor, Media Department, University of Adelaide