Nicolas Muray, Frida Kahlo, Bench #5, 1938. New York, USA. carbon print, 45.5 x 36cm; Jacques and Natasha Gelman Collection of Mexican 20th Century Art and Vergel Foundation.
Copyright: Nicolas Muray Archive.
Cover picture of Natasha Gelman by Diego Rivera, 1943.
By Catherine Speck, University of Adelaide
Frida Kahlo devotees, this is your show. There are her paintings aplenty, photographs of her by Imogen Cunningham through to Edward Weston, and film imagery of Kahlo and Rivera as the happy couple.
But there's much more to this exhibition at the Art Gallery of South Australia than a Frida Kahlo love-in. The context for the exhibition, aptly titled Frida & Diego: Love & Revolution, is set in its first gallery.
There, decked out in the colours of the Mexican flag, snippets of historic film footage are on view. They set the scene for Mexico rooted in its colonial Spanish-European past, its 1910 revolution and transition to a democracy.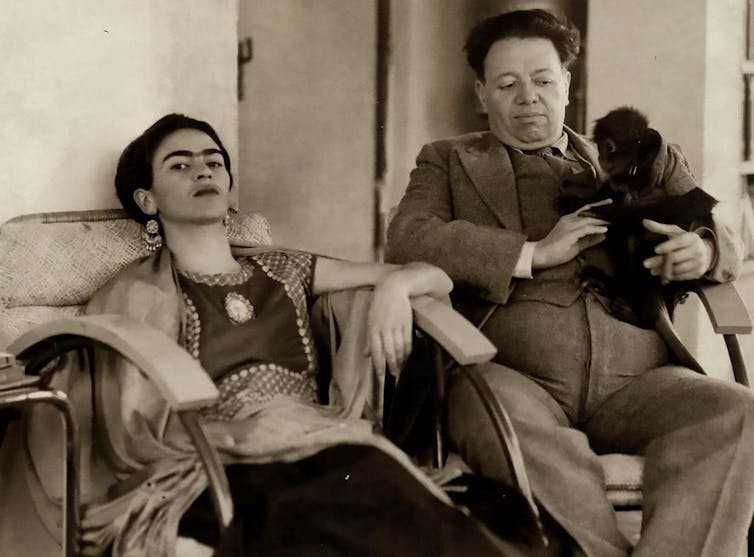 The newly formed Republic of Mexico ushered in a raft of reforms in the 1920s conducive to cultural growth and valuing its indigenous cultures.
This is the backdrop to a high point in Mexican avant-garde art by Diego Rivera, Frida Kahlo and a host of other modern artists in this exhibition.
'Mexicanidad'
Each gallery is a dramatic set for paintings, photographs, murals and moving images.
Architects Grieve Gillett have employed wall colour and shape to craft viewing spaces that induce a dramatic engagement with the paintings, such as Rivera's hyper-real anthropomorphic Landscape with cacti (1931).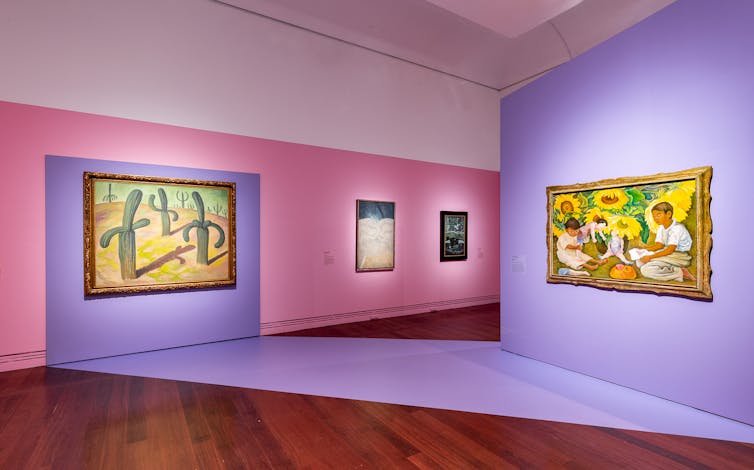 His paintings compete favourably with Kahlo's. His scenes of the everyday include Calla Lily vendor (1943), showing two traditionally dressed young girls nursing their gigantic basket of lilies.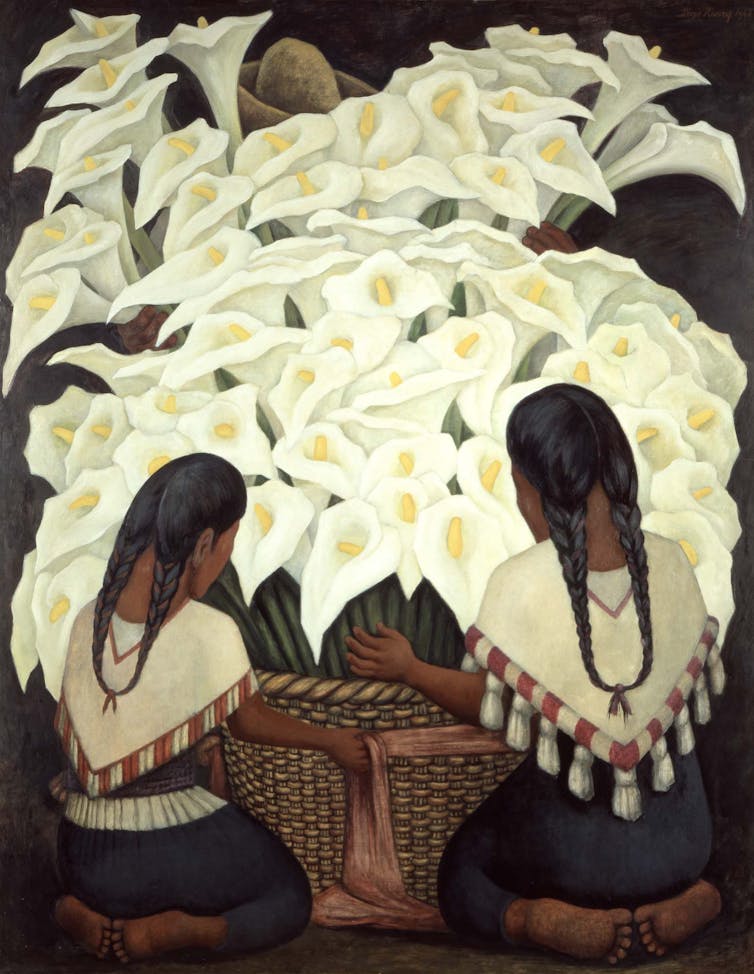 It is emblematic of the shift away from academic subject matter to traditional Mexican art and folk culture which creates a new sense of national identity and pride – known as "Mexicanidad".
The cultural vibrancy of post-revolution Mexico fostered the production of modern art by artists including Guatemalan/Mexican Carlos Merida.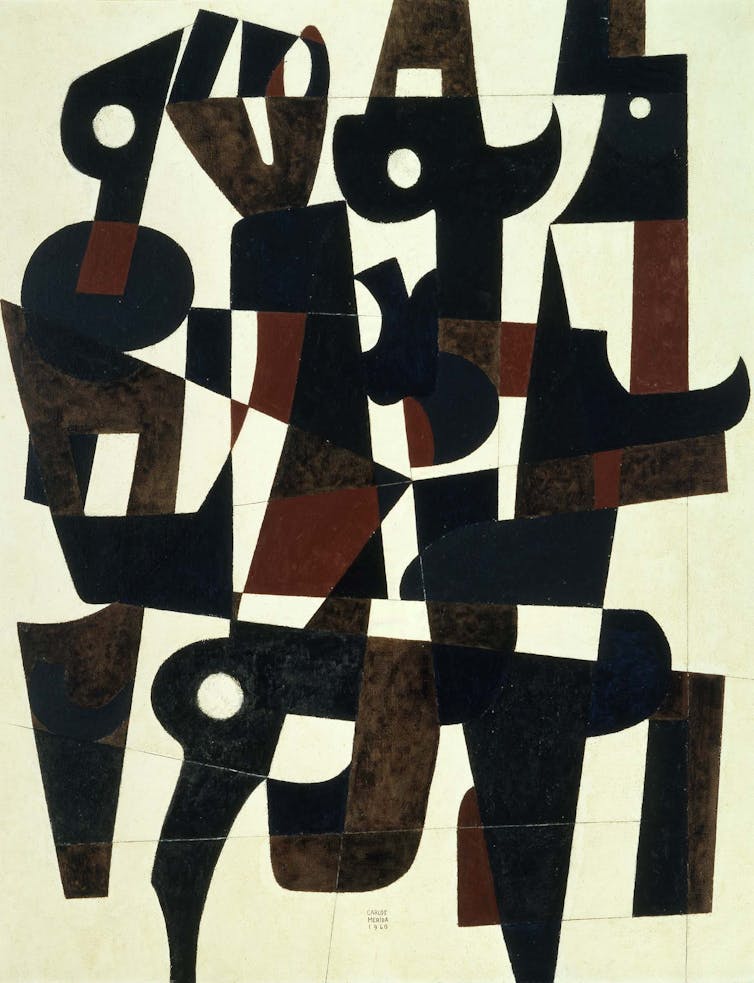 Merida's vibrant black and bronze abstract shapes dance across the canvas in Variation on an old theme (1960).
Another is Rufino Tamayo, whose inversion of volume and playful approach to representing depth frame his oversized subject in The Diner (1938).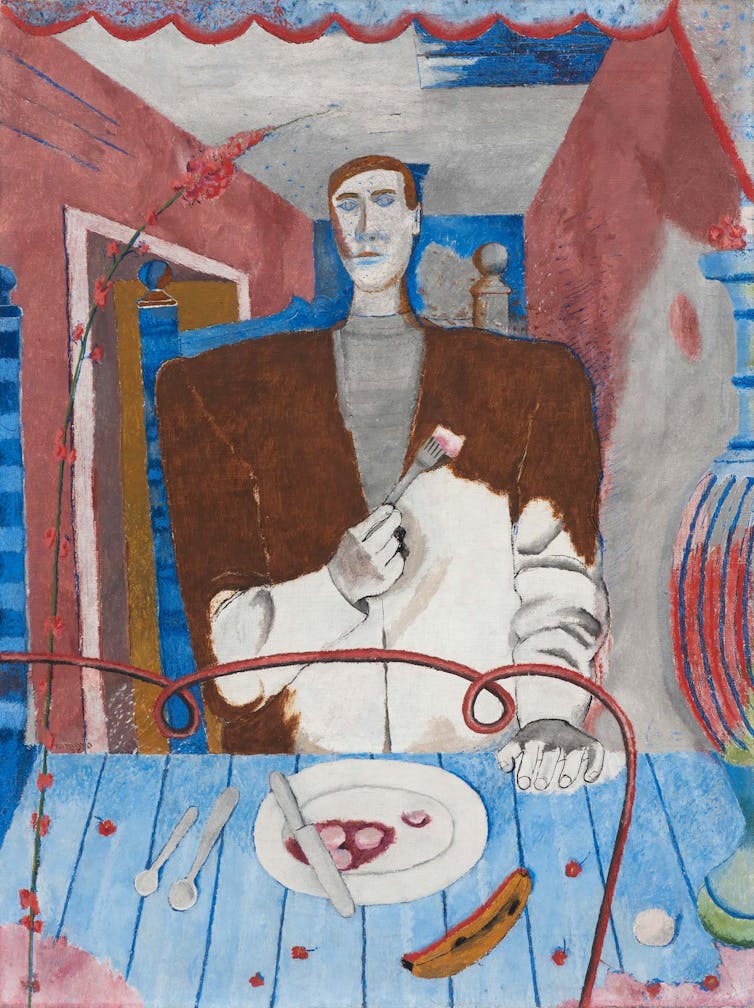 These are just two of a host of fabulous modern artists on view whose work is not sufficiently known outside Mexico: a reminder of how Anglo-American our conception of modern art is.
Enigmatic self-portraits
Kahlo was an extraordinary woman. Her enigmatic self-portraits such as Self-portrait with monkeys (1943) have an undeniable ability to draw in the viewer, her introspection transferring itself to her audience.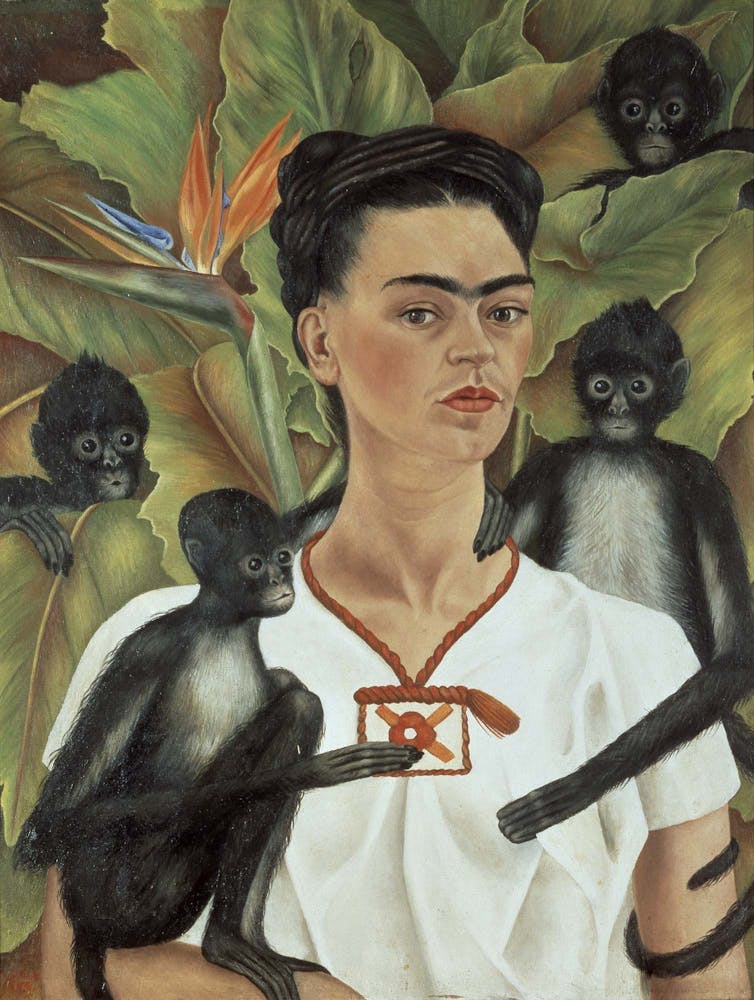 She suffered polio as a child. She then had her sights set on a career in medicine when it was thwarted by a shocking bus accident, followed by long periods of rehabilitation.
As a consequence, she took to art.
This well-known story tends to frame her as an artist, and may well explain why her stunning self-portraits – always of her upper torso – convey a singular strength and determination as in Self-portrait with red and gold dress (1941).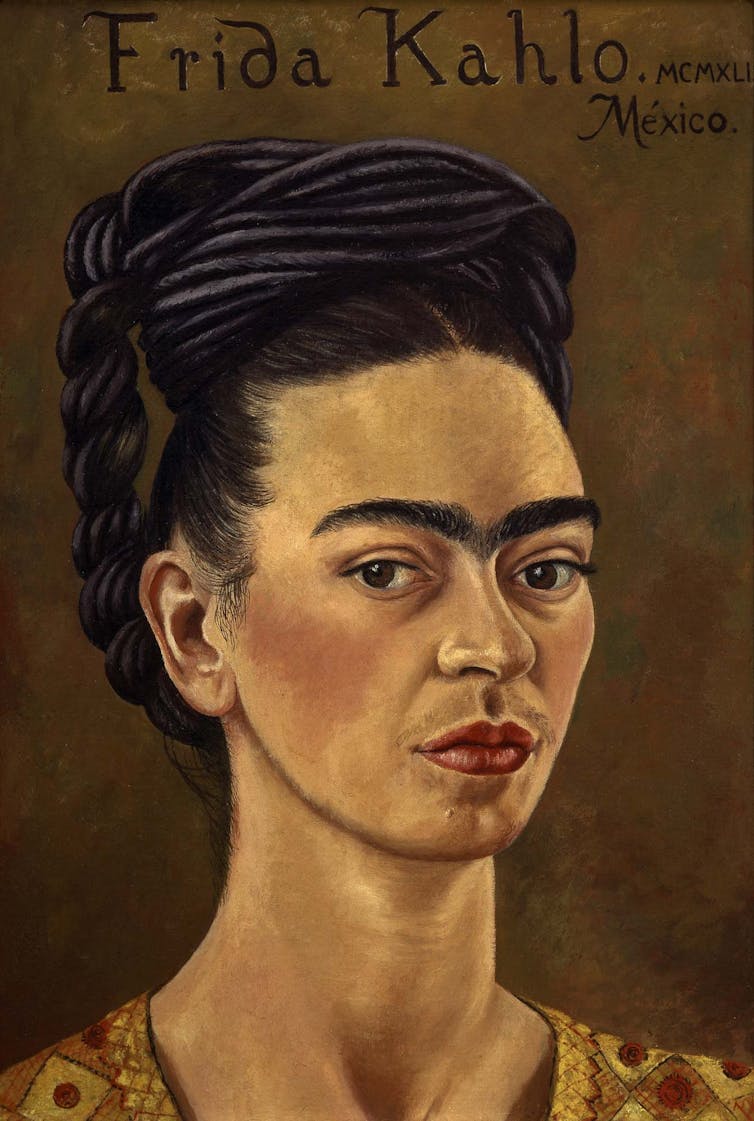 She presents herself as exotic, wearing the indigenous Tehuana dress of her ancestors as both a personal and political statement, while the long skirts disguise her misshapen polio-affected legs.
Her paintings transcend her disability, so while the re-creation of her four-poster bed and bedroom within the exhibition is a homage to her determination, it is unnecessary.
The point about her disability could have been made more gently by the photographs in the space.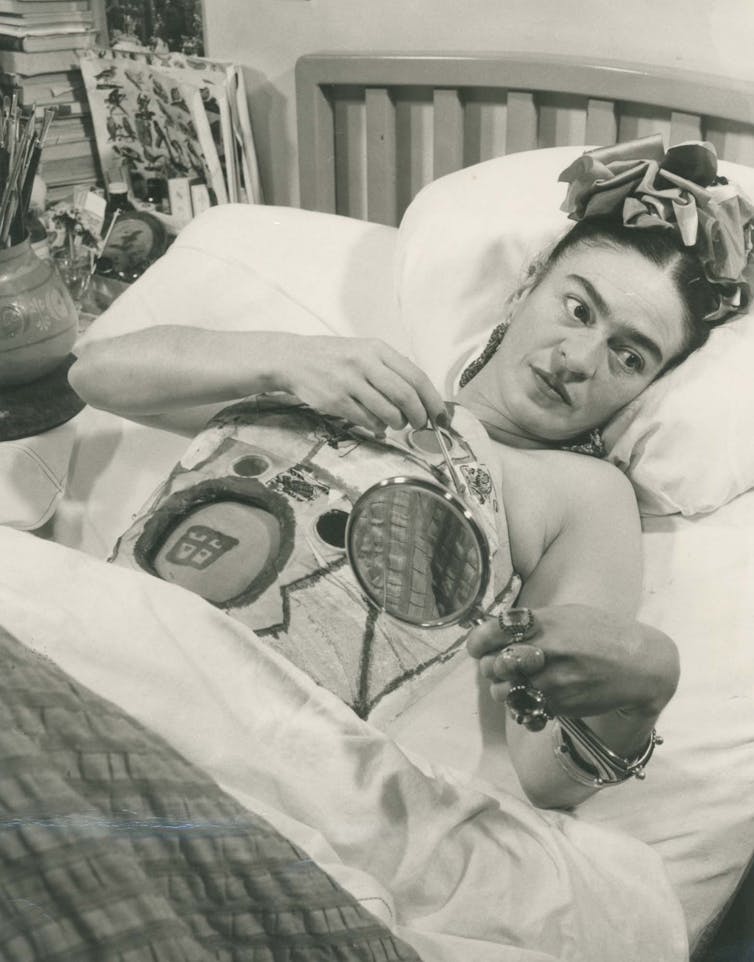 Artistic vision
The exhibition is testament to the vision of two emigres, Jacques Gelman and Natasha Zahalka who settled in Mexico City.
Gelman came from Russia via Germany and France; Zahalka from Czechoslovakia via Singapore. They met and married, and from the 1940s began collecting and commissioning work from this exciting period in Mexican art.
It is their collection on view, supplanted by some photographic loan work.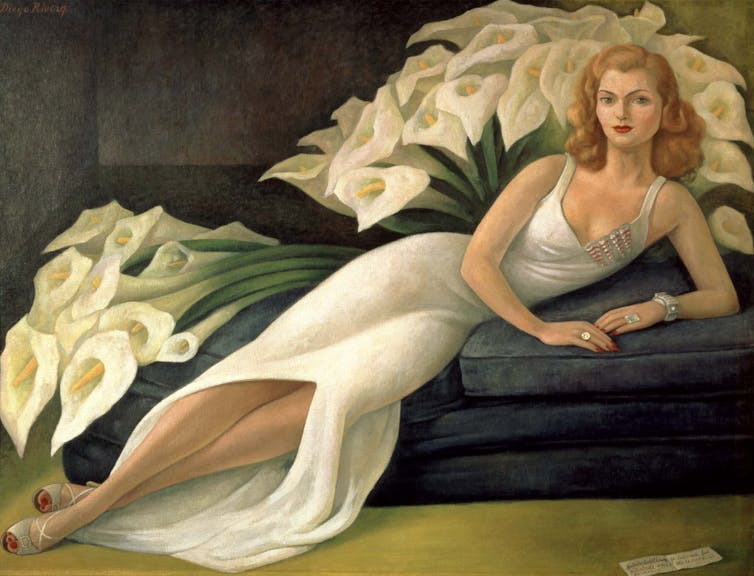 The Gelmans come to life in the exhibition: both Kahlo and Rivera completed portraits of Natasha.
But more interesting is Gunther Gerzso's Portrait of Jacques Gelman (1957).
This shows a diminutive patron embedded in an abstract field of shape and colour, testament to his love of the avant-garde.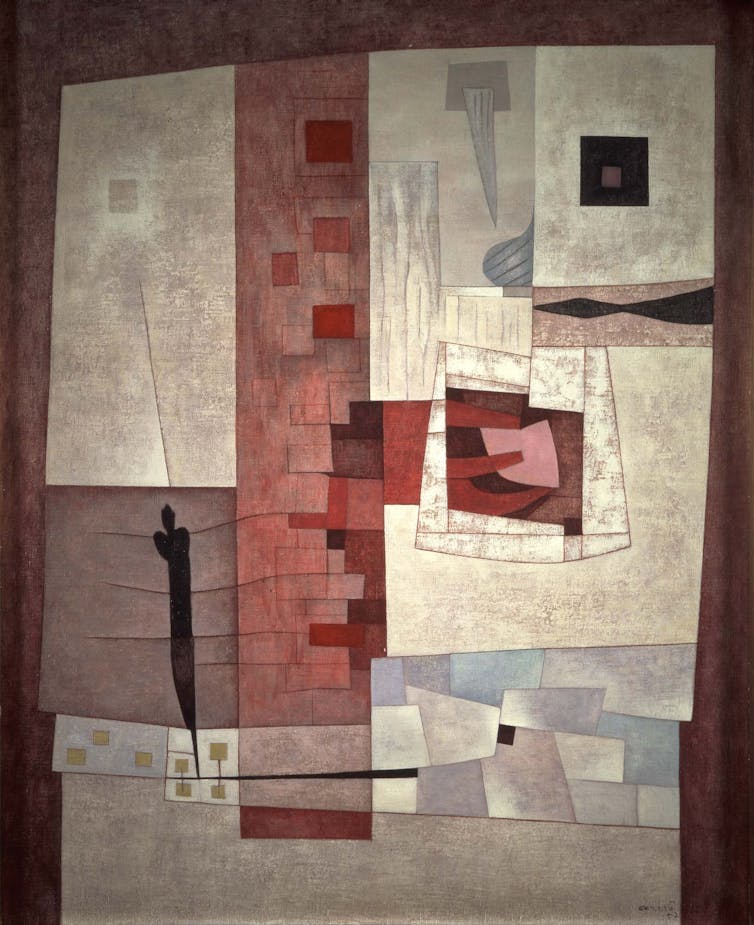 An insightful exhibition
Between 1923 and 1939, the Mexican government employed artists to paint murals to foster a sense of national identity.
Two of Rivera's murals valorising the working class are photographically reproduced across large wall spans to convey the intensity and power of his imagery.
There is a delightfully intriguing side to this exhibition in Japanese artist Yasumasa Morimura's video Dialogue with myself (2001).
He is well known for appropriating the persona of key artists from art history such as Van Gogh, Vermeer and Manet or their signature artworks.
Here, he performs as Kahlo, dressed in her distinctive clothing, while playing the piano and conversing with her.
Perhaps, in these conversations, he is drawing out the inner self Kahlo so perfectly controls in her portraits.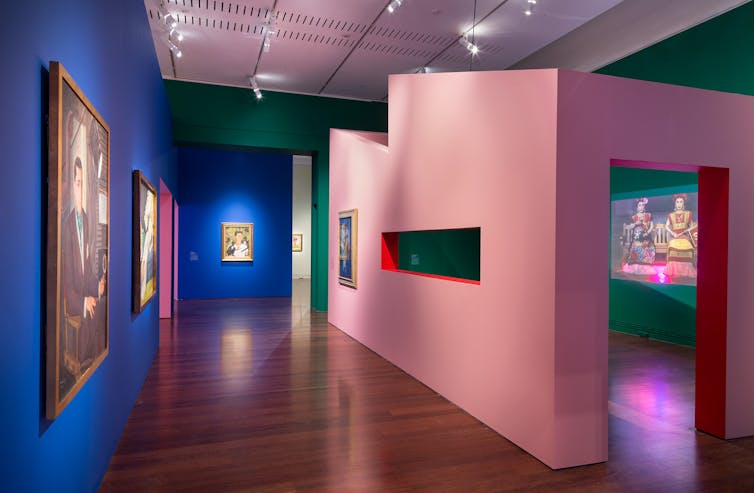 This is an insightful exhibition, beautifully curated by Tansy Curtin who weaves around the drawcards Kahlo and Rivera to present the breadth of modern Mexican art, situating it in its political and cultural context.
The exhibition catalogue with its fold-out Rivera mural is an indispensable aid. But it is the inspired architectural design complimented by wall-sized imagery of the murals and the artists' studio and courtyard that lifts the images in the exhibition to another level to make it a wholly immersive viewing experience.
Frida & Diego: Love & Revolution is at the Art Gallery of South Australia until September 17.

Catherine Speck, Emerita Professor, Art History and Curatorship, University of Adelaide
This article is republished from The Conversation under a Creative Commons license.