Did pop art have its heyday in the 1960s? Perhaps. But it is also utterly contemporary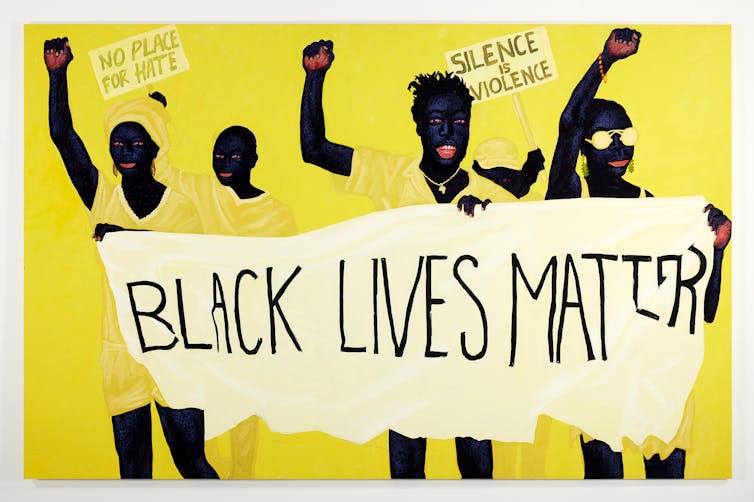 By Chari Larsson, Griffith University
Review: Pop Masters: Art from the Mugrabi Collection, New York, HOTA Gallery, Gold Coast, Australia.
Drawn from the private collection of Jose Mugrabi, Pop Masters: Art from the Mugrabi Collection is the first international exhibition presented by HOTA.
It is the strongest signal yet of HOTA's commitment to investing in a strong and vibrant visual arts community.
The New York-based Mugrabis have been long-term investors in pop art, and the family has the largest Warhol collection outside the Andy Warhol Museum in Pittsburgh.
Emerging in the late 1950s and '60s, pop was viewed as a reaction against the lofty ideals of high modernist abstraction practised by artists such as Jackson Pollock and Willem de Kooning.
Instead, pop art embraced the boom in postwar consumer culture, blurring the conventional hierarchies between high and low art.
Australian audiences have happily displayed an appetite and enthusiasm for major pop art exhibitions. QAGOMA's Andy Warhol in 2008 and the National Gallery of Victoria's Basquiat Haring: Crossing Lines in 2019 immediately spring to mind.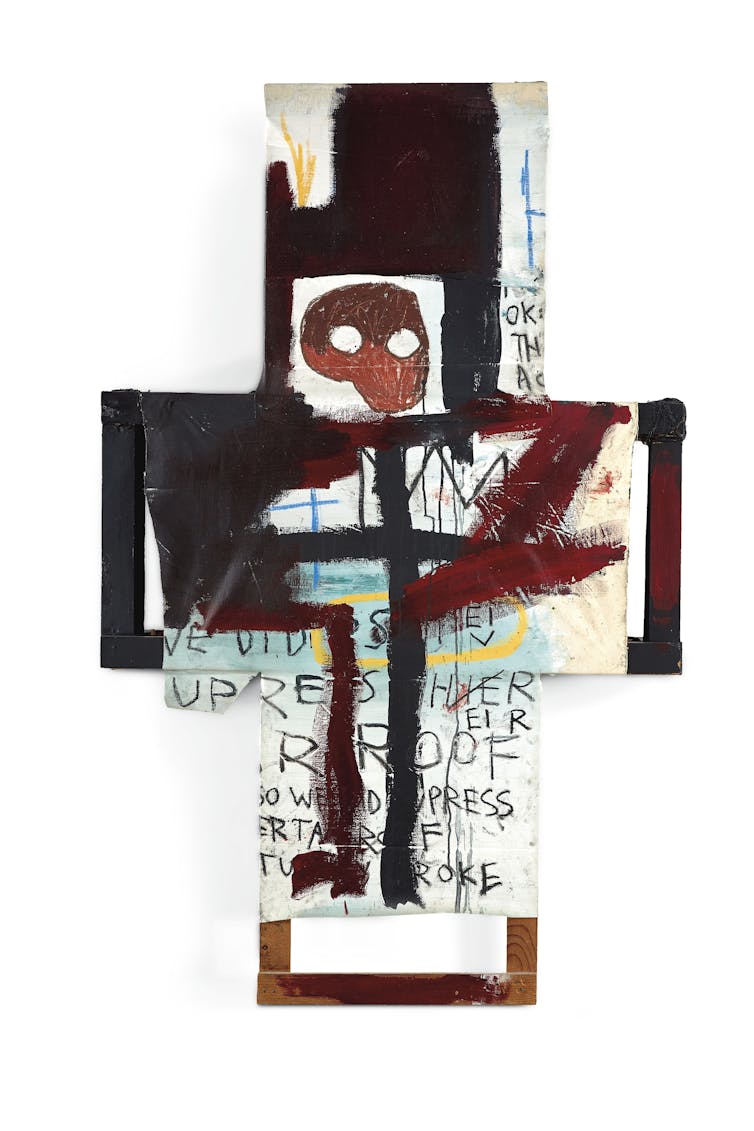 Here, curators Tracy Cooper-Lavery and Bradley Vincent have pursued a very different curatorial strategy. As opposed to the deep-dive art-historical investigation, this exhibition advances an argument for the ongoing influence of pop art on contemporary artists today.
Stars of the movement
Organised roughly chronologically, Pop Masters traces six generations of pop art.
The exhibition turns on a tripartite axis of Warhol, Keith Haring and Jean-Paul Basquiat.
Haring and Basquiat emerged from the streets as graffiti artists, and rose to prominence in the 1980s New York East Village. Both had brief but incredibly productive careers, cut short by HIV-related illness (Haring) and drug overdose (Basquiat).
In 2017, Basquiat reached the dizzying US$100-million-plus club.
Of the three practitioners, it is Warhol's name that reverberates well beyond the art world. The exhibition serves as an excellent entry point to understand his enduring influence and legacy.
On display are examples of Warhol's signature style: photographic silkscreen printing.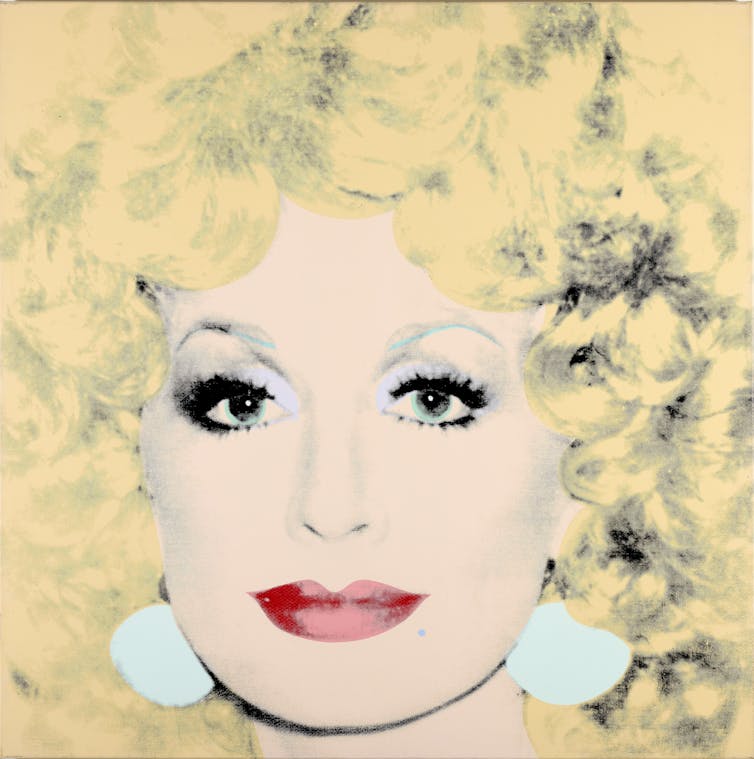 Warhol famously appropriated images from media culture. He would reproduce the images using silk screens, placing traditional artistic ideas of skill and creativity under pressure.
Art historians and critics remain divided on the topic of how exactly to read Warhol's work.
For some, Warhol's practice deliberately celebrated the vacuity of celebrity and consumer culture. For these critics, there is no point in looking for a "deeper" or "hidden" meaning: it simply does not exist.
Warhol himself certainly encouraged this point of view:
If you want to know all about Andy Warhol, just look at the surface of my paintings and films and me, and there I am. There's nothing behind it.
The alternative argument is advanced by the conviction that Warhol's practice is deeply political. As opposed to mere surfaces, Warhol's screenprints are empathetic and urgent responses to the political and social upheavals of the 1960s.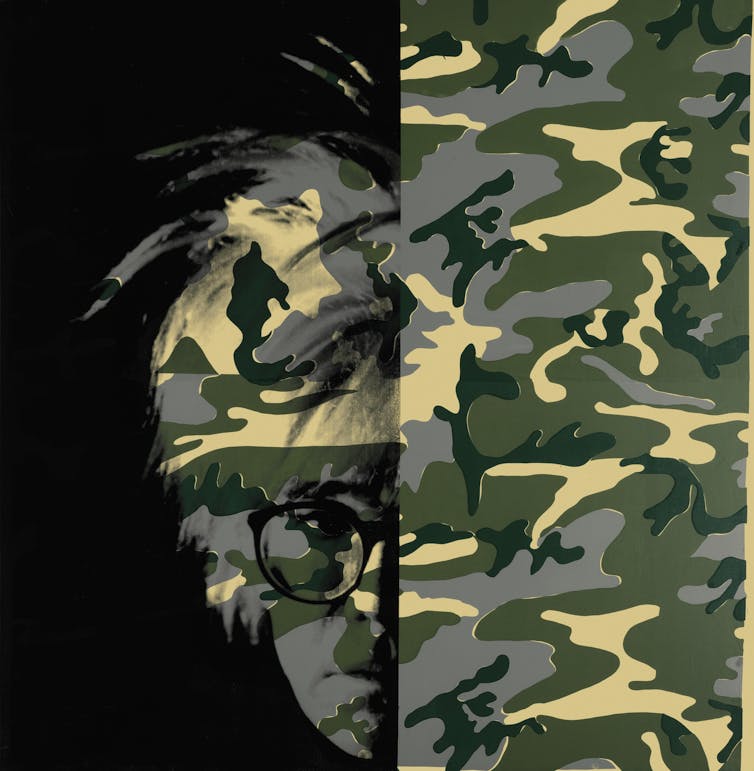 The inclusion of Warhol's Sixteen Jackies (1964) would support this account: Warhol is mining media images of the First Lady's grief in the wake of President Kennedy's assassination.
The debate has never really been settled. As this exhibition would suggest, perhaps Warhol can be both: deeply serious and superficial; political and apolitical; surface and depth.
The following generations
The curators' underlying argument for the ongoing relevance of pop is bolstered by the inclusion of exciting and diverse contemporary practitioners who are working through the legacies of Haring and Basquiat.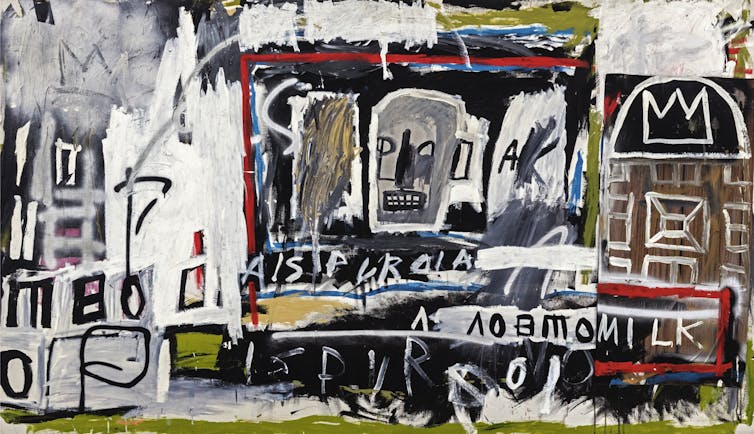 One of the defining characteristics of pop art is the tension between the ordinary and the specialness of the art object.
This tension comes to the fore in Basquiat's Untitled (Football Helmet) (1981-84). Basquiat painted the football helmet and pasted cuttings of his own hair onto its surface, giving it a comical, whimsical appearance.
Basquiat gave it as a gift to Warhol, reinforcing the collaborative connection shared by the three artists.
Haring fans are treated to an enormously scaled Untitled (1981) featuring his iconic symbol, the dancing dog. Skipping and gyrating across the canvas, the figures exude trademark Haring: simplified line executed extremely rapidly.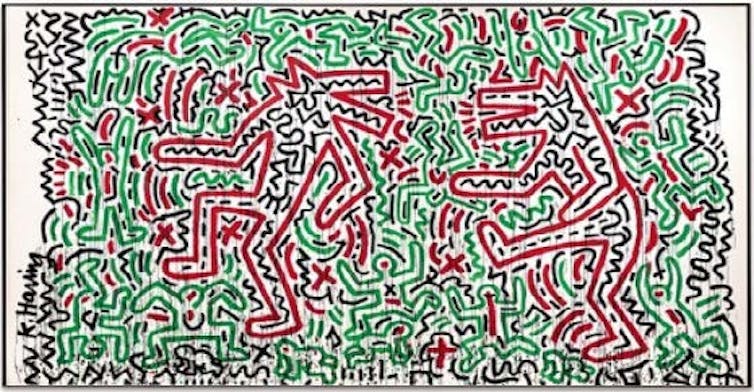 Today, New York-based Katherine Bernhardt establishes a direct visual lineage with Basquiat with her use of spray paint applied directly to the painting's surface.
Bernhardt works at an enormous scale and includes bananas and everyday objects such as Windex bottles and toothbrushes in a wryly mischievous nod to the still life painting tradition.
Bernhardt is fascinated with how objects might be read as a visual language akin to reading the alphabet. Bernhardt's Windex bottles extend Haring's visual symbolism such as his dog and the radiant baby.
Another welcome inclusion is Ghana-born and based Kwesi Botchway. Primarily a portrait painter, Botchway draws on art's history of portraiture to document contemporary Ghanaian life.
Botchway's painting documents the global outpouring of anger and solidarity that followed in the wake of the death of George Floyd in 2020.
By placing Botchway's blacklivesmatter (Divine Protesting) (2020) in dialogue with Basquiat, we are reminded Basquiat's practice was deeply political: one of his preoccupations was the representation of race and the African American diasporic communities.
The curatorial argument is clear: pop art is utterly contemporary.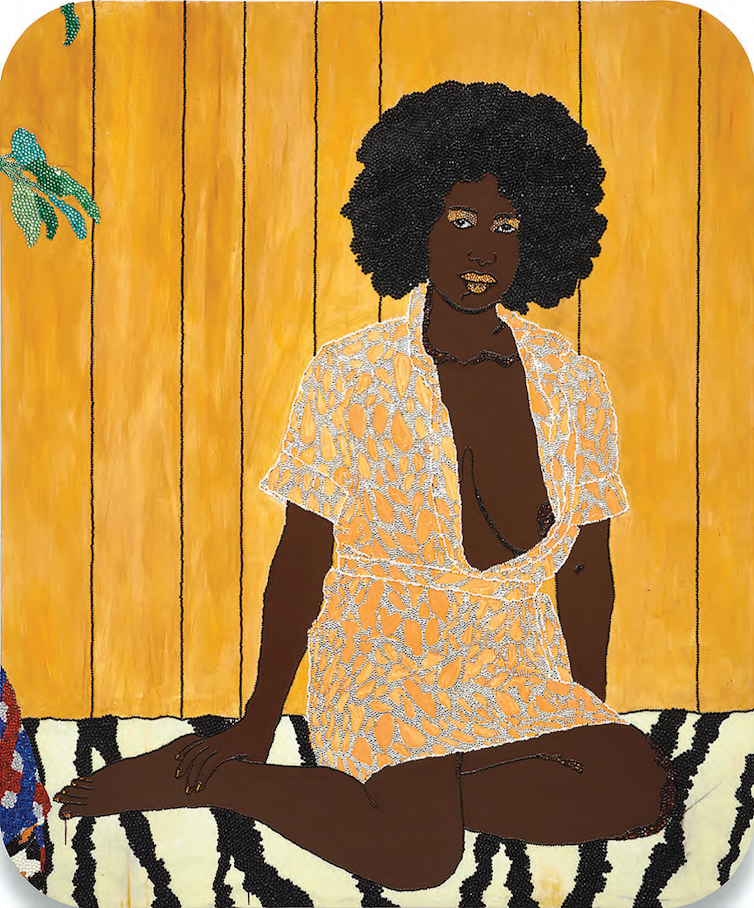 Pop Masters: Art from the Mugrabi Collection New York is at HOTA Gallery, Gold Coast, until June 4.
Chari Larsson is a Senior Lecturer of art history at Griffith University